House of Nehesi Publishers Foundation is a multimedia publishing and communication consultant and development company. The book publishing division was founded in 1982 in New York, USA. The foundation was established in 1986 in Philipsburg, St. Martin, Caribbean, as a non-profit/non-governmental organization (NGO) and is registered at the Chamber of Commerce & Industry.
For nearly 40 years, House of Nehesi Publishers (HNP) has been a leading organizer and promoter of reading, writing, publishing, and literary criticism and research in St. Martin. The company's essential objective is the critical development of the "national literature" of St. Martin (North and South) as a natural part of the dynamic, world-class literatures of the Caribbean.

The Foundation's primary activity is the publishing of books for the adult/general readership and for the research/academic, scholastic, and children "markets." Subject areas include, but are not limited to literature, education, history, biography, tourism, and entertainment.
Compounding activities include sponsoring and judging of children's poetry, essay, and photo contests; coordinating educational/historical fora (i.e. the Marcus Garvey Centennial forum/awards ceremony with the Philipsburg Jubilee Library and Idile Foundation, the 1994 visit/workshop/lecture by the scholar George Lamming, and the 1994 constitutional pre-Referendum fora); co-directing the "Traditions" theater festivals during the 1980s with the St. Maarten Council on the Arts; directing and co-sponsoring cultural manifestations for the Youth Explorers (teenage drama group); co-sponsoring the school vacation "In Session with the Youth" motivational workshops (2001) and the annual St. Martin Book Fair with Conscious Lyrics; organizing the Creative Writing Program (2003), the first traditional carnival Boardwalk Mas (2005), art exhibitions, visiting writers programs, socio-educational forums, reading/writing stimulation programs and "book parties" and other promotional activities for books published by House of Nehesi Publishers.

Communication media consultancy/surveys (e.g. St. Maarten Government Information Service; 18th Annual Conference & Trade Exhibition of the Caribbean Association of National Telecommunications Organizations [CANTO] hosted by the St. Maarten Telephone Group of Companies; UTS/TDC; Tourism Master Plan [TourMap] public awareness campaign and summit, St. Maarten Government), cultural and historical research and advisor; scholastic/NGO lectures on history, culture and education; preparation of cultural/education proposals and reports for NGO grant requests; PR newsreleases; and manuscript development are all services of House of Nehesi Publishers Foundation.
Publishing categories include 100% financing, subsidy and self-publishing. Our books have been required and supplementary reading in Caribbean, USA, and Canadian university and high school history and literature courses; and their material have been used in radio/TV programs, in theater, and on carnival stages. (Unsolicited manuscripts are not accepted and are not the responsibility of House of Nehesi Publishers Foundation.)
Divisions of House of Nehesi Publishers Foundation are Offshore Editing Services, Woodslave Films Production, Mountain Dove Records, Professional Resume Services, and House Concert Theater Productions.

Over 100 books, musical recordings, theatrical presentations, TV/radio tourism programs, and documentaries (DVDs) — including the landmark Fête – The first recording of traditional St. Martin festive music — have been published and produced by House of Nehesi Publishers. Our publications are found in or can be accessed by libraries and research centers throughout the Caribbean, the USA, Canada, Europe, South Africa, and Hong Kong, China; and are available on www.amazon.com, www.spdbooks.org and other online and walk-in bookstores.

First-time writers and acclaimed authors from St. Martin and throughout the Caribbean; from Europe, Middle East, India, and the USA, have been published successfully by the House of Nehesi Publishers imprint. Lasana M. Sekou, Nidaa Khoury, Drisana Deborah Jack, Joseph H. Lake, Jr., Marion Bethel, Emilio Jorge Rodriguez, Gerard van Veen, Patricia Turnbull, Chiqui Vicioso are among well-known national and regional authors. George Lamming, Kamau Brathwaite, Amiri Baraka, Tishani Doshi, and Shake Keane are world-famous authors published by House of Nehesi Publishers.
Awards include a World Tourism Day Award (2001) from the St. Martin Tourist Bureau and the UNESCO prize "For Mother Language" (2006), from the Ministry of Education and Culture (NA). House of Nehesi Publishers is a member of the Caribbean Publishers Network (CAPNET).
Many thanks to our authors, customers, book buyers, treasured book readers and growing book party family and to our dear friends, contributors, and patrons of the arts for their confidence, support, and inspiration.

We welcome and cherish your selection of House of Nehesi books as life-long companions for yourself, your family, friends, colleagues, and associates.
When time permits, kindly visit with us again at www.houseofnehesipublish.com for book news and titles by new and senior authors.
MULTI-MEDIA SERVICES

 

Standard publishing/100% book financing

Author-subsidy publishing

Self-publishing

CD/DVD book design & publishing

Music & video production

Manuscript development

Editing & proofreading

Graphics design

Translations: Spanish · French · Dutch

Media consultant

Public relations

News releases

Web design

For further information contact:

House of Nehesi Publishers
P.O. Box 460
Philipsburg, St. Martin
Caribbean
Telephone:(721) 554.7089
E-mail: nehesi@sintmaarten.net
E-mail: Houseofnehesipublish@gmail.com
Website:houseofnehesipublish.com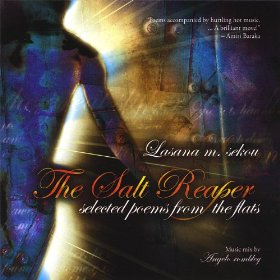 The Salt Reaper – selected poems from the flats
by Lasana M. Sekou
Music mix by Angelo Rombley
Record Label: Mountain Dove Records, Audio CD, Spoken Word/Poetry
ISBN 978-0-913441-94-7
Lasana Sekou has moved his impressive book of poetry The Salt Reaper into the field of Word Music … poems accompanied by hurtling hot music … A brilliant move!
– Amiri Baraka, author of Blues People
Download Haiti 200: $0.99
About the Authors
Marion Bethel is a poet, short story writer, essayist and attorney from The Bahamas. A Cambridge University graduate, Bethel's writings have appeared in Callaloo, The Massachusetts Review, … Read more
Free copy – all HNP orders
Fete – Celebrating St. Martin Traditional Festive Music
A special culture features publication, song, music, dance, carnival, and more, 48 pp.
Contents: Foreword • Tanny & The Boys • Bèbè recalls • In a fête • Quimbé• Carnival • "Jim Tucker" Samuel • Ray Anthony Thomas Tale of a concert • A blast in The Netherlands • Ponum • A bumper crop • Eat, drink …