GEBE Through the Years – 45th Anniversary  

A Woodslave Films ProductionDocumentary (movie), electricity/water company anniversary profile; Video slide/photo album; DVD player and computer compatible, 45 min.
ISBN: 0-913441-76-7
Forthcoming
DOCUMENTARY
GEBE Through The Years 45th Anniversary
When does a company come of age? When it becomes 15 years old, 25, or 45? Any company that has lasted 45 years deserves our unstinted recognition and praise, but the actual coming of age party is when it has demonstrated that it has met its goal of reliable, affordable and quality service that its customers demand of it. At 45, GEBE can proudly say that it has accomplished such lofty objectives. But the road was not easy.GEBE Through the Years is the story of St. Martin's electricity and water company in the last 45 years. It could be said that the company has become a barometer of how the St. Martin society is making progress—particularly in the South where the company is based and generally for the entire island. If there is trouble at GEBE, it is reflected in the community at large. If there is peace at GEBE, it seeps through the whole island. If there is expansion at GEBE, St. Martin's economy mirrors it. That is why GEBE Through The Years is, in a very special way, the story of the development of the island in the last 45 years. As a birthday "present," the chief celebrants of this documentary are the management and workers of GEBE and the people of St. Martin. It is a success story, a story of triumph against all odds, it is a documentation of the victorious and indomitable spirit of the St. Martin people found from top to bottom at GEBE.
For more information contact:
GEBE NV, WJA Nisbeth Road 35
Philipsburg, St. Martin, Caribbean
Tel: (599) 542.2213
Email: gebesxm@sintmaarten.net
GEBE – How a power plant works 

A Woodslave Films Production
Electricity production process; Video slide/photo album; DVD player and computer compatible, 30 min.
ISBN: 0-913441-81-3
Forthcoming
Be My Guest – A Tourmap TV Special 

A Woodslave Films Production
The television and radio series, "Be My Guest," served as a platform to engage several key members of the St. Martin community in discussing critical topics related to tourism and tourism development on the island. The 13-part series, done in the standard interview format, was part of the communications plan of the St. Maarten Tourism Master Plan (TourMap) in 2005.
Forthcoming
TourMap Summit – St. Maarten Tourism Master Plan Summit 2005 

A Woodslave Films Production
After almost a whole year of consultations, contributions, and compilation of data, the stakeholders in tourism came together on July 6, 2005, to put the final touches to the conclusions of a very intensive and exhaustive exercise in charting a new direction for tourism development in St. Martin over the ensuing 10 years. The exercise, a project of the government of the island territory of St. Maarten, was coordinated by the Tourism Master Plan (TourMap) Steering Committee and Work Group. This video documentary shows highlights of the gathering of the TourMap Summit on July 6 at Maho, St. Martin.
Forthcoming
The Salt Reaper – selected poems from the flats
by Lasana M. Sekou
Music mix by Angelo Rombley
Record Label: Mountain Dove Records, Audio CD, Spoken Word/Poetry
ISBN 978-0-913441-94-7
Lasana Sekou has moved his impressive book of poetry The Salt Reaper into the field of Word Music … poems accompanied by hurtling hot music … A brilliant move!
– Amiri Baraka, author of Blues People
Download Haiti 200: $0.99
About the Authors
Marion Bethel is a poet, short story writer, essayist and attorney from The Bahamas. A Cambridge University graduate, Bethel's writings have appeared in Callaloo, The Massachusetts Review, … Read more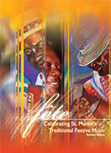 Free copy with all HNP orders … While supply last
Fete – Celebrating St. Martin Traditional Festive Music
A special culture features publication, song, music, dance, carnival, and more, 48 pp.
Contents: Foreword • Tanny & The Boys • Bèbè recalls • In a fête • Quimbé • Carnival • "Jim Tucker" Samuel • Ray Anthony Thomas Tale of a concert • A blast in The Netherlands • Ponum • A bumper crop • Eat, drink …