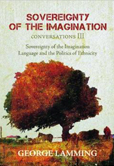 Sovereignty of the Imagination – Conversations III
Language and the Politics of Ethnicity
by George Lamming
Paperback, political philosophy, literature ethnic studies, Caribbean history, 96 pp.
$15
ISBN: 978-0-913441-46-6
The tight relationship between politics, knowledge, language, and the spaces of freedom in Lamming's writings makes him one of the most important political novelists in Caribbean Literature.
– Dr. Anthony Bogues, Center for Caribbean Thought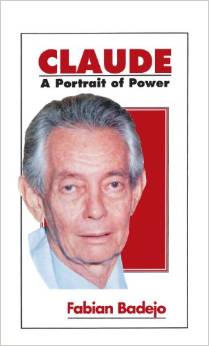 Claude – A Portrait of Power
by Fabian Badejo
Paperback, biographical survey, political studies, 200 pp.
$20
ISBN: 978-0913441-38-1
"Anybody who can last for thirty-five years in government has my unstinted admiration," declared former US Secretary of State, Dr. Henry Kissinger, on the occasion of Dr. Claude Wathey's 35th anniversary in elected public office in St. Martin. According to Badejo, history will not only weigh what this Caribbean political strongman "has done for the island, … nor how well he was liked or disliked" but "what he may have failed to do, too."
Looking Back to Move Forward
Speeches from the Forum of Former Prime Ministers of The Netherlands Antilles
by Gracita Arrindell
Paperback, government studies, 96 pp., 5″ x 7.5″
$15
ISBN: 0-913441-71-6
Looking Back to Move Forward is contemporary, avantage point from which to view political history in the Netherlands Antilles, as told by those who contributed to shaping that history while in the prime minister's seat.
Looking Back to Move Forward should be read by both Antilleans and the Dutch, who, too often, are unaware of Antillean arguments and sentiments.
– Dr. Bob Reinalda, Radboud University Nijmegen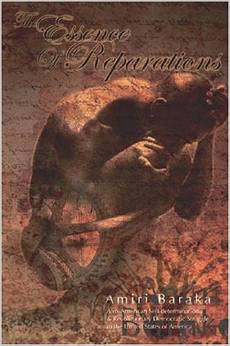 The Essence of Reparations
by Amiri Baraka
Paperback, American history/Black studies, 44 pp., 5″ x 7.5″
$15
ISBN: 0-913441-60-0
Baraka sees the struggle for reparations not as an end in itself but as part of a wider struggle for full citizenship and equal rights in a program for genuine democratic transformation in the United States. In this context he poses issues that go way beyond the challenges of reparations. One does not have to agree with his ideological framework to appreciate the timeliness and urgency of his case for reparations.
– Rupert Lewis, Professor of Political Thought, University of the West Indies
Friendly Anger
The Rise of the Labor Movement in St. Martin
by Joseph H. Lake, Jr.
Hardcover, labor history, politics, sociology, 313 pp., 5.25" x 8"
$30
ISBN: 0-913441-41-4
Friendly Anger is a very important work not only because it chronicles and describes the events and roles played by key actors that are required for an understanding of any historical period, but also because it gives us a social history of St. Martin. Lake has made a difficult task appear quite simple as he uses his obviously good grasp of the detail to paint for us the wider picture.
– David Abdulah, Oilfields Workers' Trade Union, Trinidad and Tobago

A Status for Saint-Martin – References of Hope
Edited by Saint-Martin People's Consensus
Saint-Martin: Objectif Statut – Réperes pour 'Espoir
Edité par Consensus Populaire Saint-Martinois
(English & French edition)
Hardcover,421 pp. 8.5″ x 11″
$35
ISBN: 0-913441-49-X
Establishment of the St. Martin People's Consensus … to work on a new political status for the northern part of St. Martin signaled an important step on the road to self-determination for the nation's people.
– St. Maarten/St. Martin Newsday
The Republic of St. Martin
by Joseph H. Lake, Jr.
Paperback, political science, 90 pp., 5.25″ x 8″
$15
ISBN: 0-913441-44-9
Newspaper publisher and political scientist Joseph H. Lake, Jr. presents a unique socio-historical view of the origins and key current realities of the St. Martin nation, an overview of the Southern part of St. Martin as a Dutch colony, and encapsulates a multi-category vision of St. Martin as a republic. Lake is the president of the Independence for St. Martin Foundation.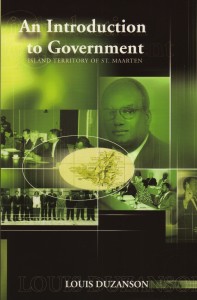 An Introduction to Government
Island territory of St. Maarten
by Louis Duzanson
Paperback, political science, 90 pp., 5.25" x 8" (Second printing)
$15
ISBN: 0-913441-51-1
The first a-b-c reader written in English in St. Martin about the workings of the legislature, executive, and supervisory branches of the government of the "island territory of St. Maarten."
Big Up St. Martin: Essay &  Poem
by Lasana M. Sekou
$8
ISBN: 0-913441-34-1
A monographic series booklet, discussing in one essay and exploring in one poem the colonial status and growing call for independence for the Caribbean island of St. Martin (a colony of the Netherlands and France).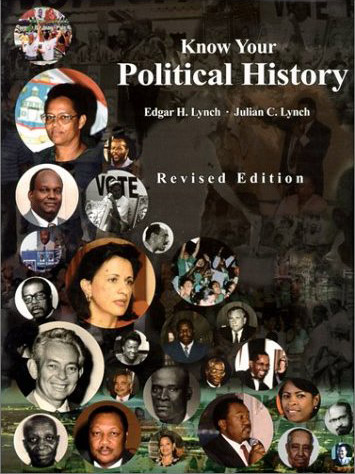 Know Your Political History – Revised Edition
by Edgar H. Lynch, Julian C. Lynch
Hardcover, 213 pp., 8.5″ x 11″
Forthcoming
ISBN: 0-913441-32-5
The first complete guide to the parliamentary and Island Council elections from 1945 to 1999,in St. Martin (South) — an island territory in the Dutch colony of the Netherlands Antilles. Authors' commentary and integral references are also made of elections and government formation processes in the other island territories of Curacao, Bonaire, Saba, St. Eustatius (and Aruba before it obtained its separate status in 1986). One extensive interview and short profiles of the leading 20th century St. Martin politicians; an overview of pioneer women politicians; over 30 pages of election graphs and photographs enliven this book. Bibliography and appendix.
The Independence Papers
Readings on a New Political Status for St. Maarten/St. Martin, Volume 1
by Lasana M. Sekou (Editor)

Paperback, political science essays 236 pp., 6″ x 9″ (Limited copies)
$20
ISBN: 0-913441-09-0
The first compilation of St. Martin's political thought. Over 25 essays, over 12 writers, including political leaders, activists, journalists, lawyers, political scientists, businessmen, and a librarian; selected bibliography; appendix of historical/political/constitutional documents regarding this French/Dutch colony in the Caribbean.

About the Authors
Marion Bethel is a poet, short story writer, essayist and attorney from The Bahamas. A Cambridge University graduate, Bethel's writings have appeared in Callaloo, The Massachusetts Review, … Read more
Free copy with all HNP orders … While supply last
Fete – Celebrating St. Martin Traditional Festive Music
A special culture features publication, song, music, dance, carnival, and more, 48 pp.
Contents: Foreword • Tanny & The Boys • Bèbè recalls • In a fête • Quimbé • Carnival • "Jim Tucker" Samuel • Ray Anthony Thomas Tale of a concert • A blast in The Netherlands • Ponum • A bumper crop • Eat, drink …