MULTI-MEDIA SERVICES

Standard publishing/100% book financing

Author-subsidy publishing

Self-publishing

CD/DVD book design & publishing

Music & video production

Manuscript development

Editing & proofreading

Graphics design

Translations: Spanish · French · Dutch

Media consultant

Public relations

News releases

Web design

For further information contact:

House of Nehesi Publishers
P.O. Box 460
Philipsburg, St. Martin
Caribbean
Telephone:(721) 554.7089
E-mail: nehesi@sintmaarten.net
E-mail: Houseofnehesipublish@gmail.com
Website:houseofnehesipublish.com
Arnia's Bookstore

– Bush Road/Zagersgut Road

Van Dorp

– AT Illidge Road; Simpson Bay

Shipwreck

– Frontstreet, Philipsburg, Maho

Shopping Plaza

– Maho

St. Maarten Museum

– Speetjens Arcade, Frontstreet

Match Supermarket

– Howell Center, Marigot

Jubilee Library

– Philipsburg

Municipal Library

– Marigot
Available throughout the Caribbean
Gaymes Book Centre

– St. Vincent & The Grenadines

Metropolitan Book Suppliers, The Blue Edition

– Trinidad & Tobago

UVI Bookstore; Dockside Bookshop

– St. Thomas, VI

UWI Bookshop; Cloister's Bookstore, The Book Place

– Barbados

UWI Bookshop; Novelty Trading

– Jamaica
Available in Europe
New Beacon Books

– London, England

BLAAC Shop

– Amsterdam, Netherlands
Available internationally
www.amazon.com

www.spdbooks.org

www.blackwell.com

www.dawsonbooks.co.uk

www.couttsinfo.com

www.libroslatinos.com

www.vanstockum.nl

www.bookishplaza.com

www.houseofnehesipublish.com
Advertising on House of Nehesi Publishers' Website is an exciting information and business opportunity to reach potential viewers and customers. The House of Nehesi Publishers advertising rates are not distributed publicly.
For further information:
House of Nehesi Publishers
P.O. Box 460
Philipsburg, St. Martin
Caribbean
Telephone: 1 (721) 554.7089
E-mail: nehesi@sintmaarten.net
E-mail: Houseofnehesipublish@gmail.com
Check or International Postal Money Order
We accept bank checks, money orders, and international postal money orders payable in US$ currency for all orders. Inquiries and orders may be submitted by mail or e-mail.
Once your order has been accepted, kindly mail payment to: House of Nehesi Publishers, P.O. Box 460, Philipsburg, St. Martin, Caribbean. Be sure to write your e-mail address on the back of the check or money order so that we may properly credit your account.
Orders will be processed immediately upon receipt of payment

About the Authors
Marion Bethel is a poet, short story writer, essayist and attorney from The Bahamas. A Cambridge University graduate, Bethel's writings have appeared in Callaloo, The Massachusetts Review, … Read more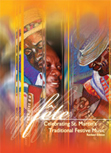 Free copy with all HNP orders … While supply last
Fete – Celebrating St. Martin Traditional Festive Music
A special culture features publication, song, music, dance, carnival, and more, 48 pp.
Contents: Foreword • Tanny & The Boys • Bèbè recalls • In a fête • Quimbé • Carnival • "Jim Tucker" Samuel • Ray Anthony Thomas Tale of a concert • A blast in The Netherlands • Ponum • A bumper crop • Eat, drink …